Each year, United invites nominations for the Distinguished Alum Award. Distinguished Alums are graduates of the seminary who have made a meaningful and lasting contribution to making the world a better place through their work and ministry. A committee of the Alum Council reviews the nominees and selects the Distinguished Alum Award recipient, who is recognized each spring at the annual Alum Dinner during United Days.
United is pleased to announce that Kenneth Daniel '81 and Robert Smith '80 have been selected as recipients of the 2016 Distinguished Alum Award. United honored them as part of the annual Alum Dinner on Thursday, May 19, 2016.
Kenneth Daniel '81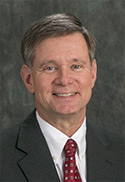 UCC minister Kenneth Daniel has served in local congregations, seminary settings, and retirement community administration. During his career, Ken has acted in key leadership roles for several historic UCC health and educational institutions.
Since 2011, Ken has served as executive director of United Church Homes, a national non-profit provider of housing and health services, ranging from skilled nursing and rehab, to retirement communities, to affordable housing for seniors. During his short tenure, Ken has led a complete reorganization and expansion of the internal business functions, resulting in high quality levels of clinical health care, staff satisfaction, marketing and sales, financial performance, and corporate communications.
Ken was nominated by Karen Smith Sellers '76 '13, with a letter of support written by UCC Minnesota Conference Minister Shari Prestemon, who sits on United's board of trustees. Shari writes:
"Whether Ken is providing leadership to a health and human service organization, serving in a seminary setting, or acting as pastor to a local congregation, Ken's integrity of faith and service-oriented approach is always abundantly clear. While he knows and understands what it takes to successfully manage an organization from an administrative standpoint, he never loses sight of what is, for him, always at the center: purposeful ministry and abiding


Robert Smith '80

Brother Robert Smith is a member of the order of Christian Brothers in the Roman Catholic Church. After earning a master's degree in religious studies from United, he went on to earn a Ph.D. in moral theology (ethics) from Marquette University. Brother Robert has taught at Saint Mary's University of Minnesota in Winona and taught and administered schools run by the Christian Brothers in Kenya and Palestine. For seven years he served as vice president for academic affairs at Bethlehem University in Palestine. During that time, he met with United students from Professor Eleazar Fernandez' Global Studies course, who had traveled to the region as part of the immersion class.
Brother Robert currently serves as vice president of the Schools of Graduate and Professional Programs at Saint Mary's University of Minnesota in Minneapolis, where he continues to minister by sharing his gifts of teaching and leadership skills.
Brother Robert was nominated by Paul Capetz, United's professor of historical theology. A support letter was written by Eleazar Fernandez, professor of constructive theology. Eleazar writes:
"Brother Robert embodies the ideals and hopes of United for its graduates. He embodies commitment, knowledge and skills, compassion and cultural competence, courage, and perseverance. Our visit with Brother Robert at Bethlehem University was a delight and an inspiration for both my students and me. It was one of the high moments of the immersion trip. I continue to derive inspiration from his commitment and ministry."


Nomination Process & Submissions Forms
Nominations are open through November each year. The Distinguished Alum has graduated at least 10 years ago from United, Yankton or Mission House Seminary and has demonstrated exceptional achievements and special qualities in her/his ministry in the church or society. Nominations are due December 1 each year.
Distinguished Alum Printable Nomination Form (PDF)
Distinguished Alum Online Nomination Form
Past Recipients
2015 Anita C. Hill '87 '00
2013 Karen Smith Sellers '76, Norma Rae Hunt '84
2012 Jon Gunnemann '66
2011 Kimberly Vrudny '95
2010 Susan K. Ebbers '78, Rick Yramategui '87
2009 Howard J. Vogel '78
2008 Peg A. Chemberlin '82
2008 Herbert Zimmerman '46
2007 Paul Olm-Stoelting '46 '74
2006 Christie Cozad Neuger '80
2005 Gene E. Miller '83
2004 Robert H. Tucker '81
2003 Gary Reierson '78 '86
2002 Kathi Austin Mahle '78, Ernest Strandberg '67
2001 Sheila C. Gustafson '77, Helen Wells O'Brien '90
2000 Obid Hofland '68 '88
1999 John Heinl '61
1998 Thomas Townsend '60
1997 Eugene Grau '44
1996 Marva Jean Hutchens '80, Gary Miller '68
1995 Carla Bailey '81 '92, Hobart (Fid) Sailor '69
1994 Martha Ann Baumer '73, Nelda Lockwood '51, Alma Stepanek '51
1993 Vernon Jaberg '47, Fred Schneider '43
1992 Theodore Bader '51, Ralph Ley '39
1991 John Krueger '63