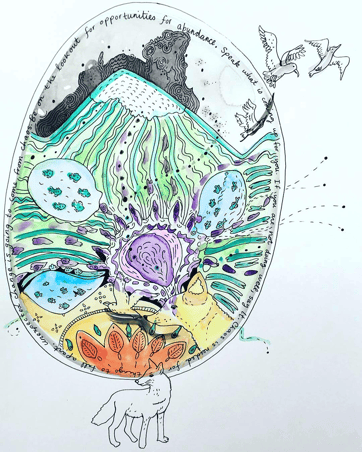 Art by Sarah Amalia Holst created during a class meditation let by Amoke Kubat.
Students enrolled in a degree program with an arts concentration all participate in an arts practicum course. The course is experiential and students learn by doing--in this case by making art to reflect on a theological question or concern. The course functions as a cohort and students work together to gain insights, not only from readings and assignments, but also from each other as they offer critical reflection.
This year's class includes eight students working in mixed media, paint, music, radio, poetry, painting, photography, and more. On April 28 at 7:00 PM, they'll showcase their work in the Bigelow Chapel. The evening of sacred stories will reveal their process as individuals and as a class—a journey that engages questions of loss and lament that move into a journey of healing and community.
The title for the evening, "Pretty Looking Road," speaks to the journey of integration, insight and reflection that they have traveled on together. The class has had revelations of mercy in their work together. We invite you to join them for this evening as they share their "Pretty Looking Road."
The works will include:
Oh Mamas Don't You Weep (Mary is one of us)
Weavings, sculpture and sacred dolls by Amoke Kubat


The Seven Words of Mercy: Sacred Memories
Poetry & Prose by Craig Lemming

I'm Not Seized by Desperation: Sacred Seeing Through Deep Listening
Photography by Lisa Myers

A New Cup of Grace: A Bedside Opera with a Ukulele Chaplain
Emily Youngdahl Wright

Purity, Trauma, Healing
Paintings by Deryk Bauer-Lee

Auld Lang Spirit Chronicle A Play In One Act
Lisa Lynott-Carroll

The Sacrament of Lament
Paintings by Sarah Amalia Holst

A Discontinuous Arrangement
Sculpture by Meredythe Jones Rossi