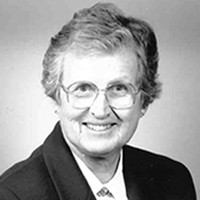 Many of you may be aware that Rev. Dr. Mary "Molly" Allison Bigelow McMillan died last Thursday at age 97. The naming of our Administrative building and beautiful chapel in her family's honor is reflective of her great generosity and support for United.
Her work as a student at United and her many years of service in leadership on the Board of Trustees is another indicator of the importance of United's work in her life.
I have received many pages of biographical material outlining her significant achievements and areas of focus through her life but two brief statements seemed to give a deeper insight into what she most valued in life and at United.
The first comes from her 1989 Commencement Address at United:
"We need to find the connectors that will say to our congregations that the mystery of the unexpected is as real today … as it was when Moses turned aside to get a better look at the burning bush and found holy ground. We need to say that the divine/human encounter didn't just happen back then – it happens today. We must try to explain or describe it in today's language even though words are always inadequate."
The second comes from her remarks at the dedication ceremony for the Bigelow Chapel:
"When there is so much to be done in the world … some may ask, do we need a chapel for this small institution of learning … We need a chapel because studying, learning and trying out new ideas is not enough. Doing works of justice and mercy is not enough, and there comes a time when we need a place in which we can simply offer hymns of praise and prayers of thanksgiving for the hope in the midst of despair that that mystery offers us, for that loving relationship out of which we often fall, but which has been offered unequivocally with the promise that it will never be withdrawn."
It is our understanding that Molly's funeral will be held at 11:00 AM on Saturday, February 25th at The House of Hope in St. Paul.
Additionally, John Lee, our chaplain, along with the faculty, students, and staff at United will hold a special chapel in her honor in the coming weeks. We will circulate an announcement about that chapel once it is scheduled.
Please join me in keeping Molly and her family in our thoughts and prayers through this time.
Sincerely,

Dr. Lewis P. Zeidner
President
United Theological Seminary of the Twin Cities