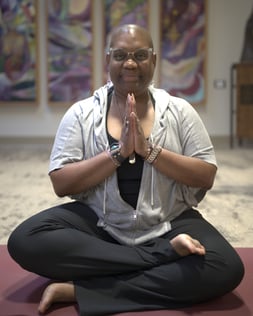 Yoga and church were childhood pillars for 2018 alum Marjorie D. Grevious. She estimates that she started doing yoga alongside her mother at age three, and that the practice of yoga ran "parallel to my journey as a church girl raised in the Black missionary church tradition of the south." Those two pillars remained constant, but separate, until United helped Marjorie connect her core beliefs as a Christian and her spiritual practice of yoga.
The Path to United
For most of her career—with an MS in Human Services and Community Counseling and Psychology—Marjorie worked with young people who were "caught in cycles of crisisand chaos most often caused by the unstable/unhealthy adults in their lives." Part of the impetus for taking advanced training in yoga, and attending seminary, was Marjorie's desire to not just treat the symptoms of dysfunction, but to "help people at the core of their being."
After completing a 200-hour yoga training in 2012, her first students were teen girls caught in the juvenile justice system. "I was amazed," Marjorie says, "by the immediate effect a single yoga class had on their overly stressed minds and hyper-reactive bodies." At the same time, she knew there was more to learn.
Connecting Faith and Yoga
At United, Marjorie realized "that ordination and formal church work was not the call that God has on my life." Still, the relationships she built, the community she found, and the scholarship in which she engaged were what she needed.
"United to me is what I wanted and needed church to be," Marjorie asserts. "It is a non-judgemental place where I am able to think theologically, I'm able to experience the spirit, but also to have intellectual discourse around what I believe to be true and what it is like to be with other Christ-centered people who believe differently than I do, but we have this core place of connection."
"I think the beauty of my United education," she adds, "was how big the conversations were. You were not trapped by dogma or by denominational restrictions." Learning about "seminary siblings'" plans also gave Marjorie the inspiration to lean into her strengths as a yoga teacher and person of faith.
It seemed obvious after that; a yoga ministry became possible. After all, as Marjorie readily confesses, "I feel in touch with the sacred, with that which is bigger than myself, on my yoga mat; when life gets big and life gets full, I go to my yoga mat."
There are other connections too. Notes Marjorie: "The philosophies behind yoga, the 195 yoga sutra statements created by Patañjali, are very parallel to what we read and study in the Bible in terms of how we treat ourselves, how we treat each other, and how we move through the world."
Living into Her Purpose
These days, Marjorie is an instructor at Yoga Sanctuary and operates a private practice at Temple Within. She has many more hours of training under her belt and is certified in five types of yoga, several designed to support individuals with histories of trauma.
Ultimately, Marjorie is happy to teach how the practice of yoga can realign each person's sense of physical, emotional, and spiritual well-being. She is grateful, she says, that United helped her "to define my passion and fulfill my purpose of offering spiritual wellness as a way of being for all God's people."