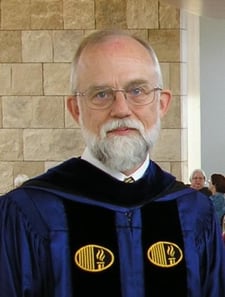 Richard D. Weis
November 5, 1949 - December 31, 2020
Rev. Dr. Richard Weis, former Dean of United Seminary and Professor of Old Testament (1998-2011), died peacefully at his home on December 31, 2020 in Lexington, Kentucky.
During his tenure at United, Rich contributed to the educational experience of countless students as a teacher, advisor, and administrator. He helped students articulate and understand their call, inspiring them for the work they are doing today in faith communities, nonprofits, and other settings.
As an administrator, Rich mentored and nurtured the lives of both faculty and staff and created significant partnerships with denominational and community partners. His leadership and his unyielding respect and care for all people will continue to serve as an inspiration to us all.
Rich often talked about "the new thing that God was creating." May we who remember him move forward in that same spirit of hope and promise.
***
Former United colleagues Sue Ebbers, Deb Olsen, and Carolyn Pressler reflect on Rich's legacy. You are invited to share your own reflections on United's Alum Facebook page.
Most of all you taught me how to treat everyone with kindness and compassion.
–Deb Olsen, former Administrative Assistant to the Dean of the Seminary
I will remember Rich Weis as someone whose door was always open. He was always there and available to meet with faculty, students, seminary employees and visitors, treating every situation he met with kindness and compassion. I believe his desk, covered in stacks of books, reports, files and endless notebooks, reflected his mind and heart - filled to the brim with ideas for improving the entire seminary, the work experience of the faculty and the education of the students. Rich was a teacher first, and that was evident in everything he said or did. Serving as his administrative assistant was an honor and I'm blessed to have been given the chance to work with him.
***
He was an educator, a scholar, and an administrator par excellence.
–Sue Ebbers, Professor Emerita of Theological Bibliography
When I have thought of Rich Weis these past several weeks, I have certainly paused over his formidable intellect, his even more formidable attention to detail, and his wide-ranging knowledge of theological education, the Bible, theology, the church, and so much more. In the midst of his devotion to the minutiae of policies (he always improved them, finally), he could see and grasp the big picture of what was happening in the seminary and the larger church, and find a way to communicate what that picture required of us in response.
He was more than generous beyond the seminary, from the compelling presentation on stewardship to my local church, to fruitful participation in the local presbytery, to the countless hours of work in helping the United Church of Christ shape its document on alternative paths to ministry. He was a man of faith and a churchman.
His FaceBook posts show him to have been a passionate gardener and citizen. I have thought of all these things. But I have returned again and again to simple, profound gratitude for the respect, encouragement and support he gave to me in my work in the library and in my entering into the role of dean. He did not try to make me into someone I wasn't. But he strongly invited me to be my best self. He was my dean and my friend.
***
The lodestar of Rich's deanship was justice across diversity.
–Carolyn Pressler, Professor Emerita of Biblical Interpretation
Richard Weis was my Dean, my colleague in Hebrew Bible, and, above all, a beloved friend. During the thirteen years that Rich was United's Academic Dean, he created a sense of stability and of caring. He also made sure that we had the necessary and consistently applied policies that empowered and freed us to bring our best selves to our teaching, to our students, and one another. Rich was consistently accessible, available to us pastorally as well as academically. He worked to make staff policies and benefits consistent with those governing the faculty. He increased compensation for adjunct faculty, attempting to reduce the disparity between what regular and adjunct instructors are typically paid per class. He started or supported numerous initiatives to make the seminary more racially just and more gender inclusive.
Rich's impact on the field of Biblical Studies was equally profound. A text critic, he was first a member, and then a co-chair of the international committee charged with preparing for the German Bible Society the Biblia Hebraica, Editio quinta funditus renovata, a new critical edition of the entire Hebrew Bible, successor to the Biblia Hebraica Stuttgartensia. The successive editions of the Biblia Hebraica are the gold standard for our field; the importance of Rich's decades long work on the BHQ on Hebrew Biblical scholarship can hardly be overstated.
An internationally recognized Jeremiah scholar, Rich's clear analysis of the social dynamics behind the various redactions of the prophetic books brought them alive both for his students and, to a whole new level, for me. Rich's fingerprints are all over my lectures on early prophecy, on what we can learn from the prophets for our ministries today, and on the prophets' greatly diverse social locations. A co-chair of the feminist hermeneutics of the Bible committee of the Society for Biblical Literature, Rich embodied what a pro-feminist scholar-teacher could be and do. That was transformative, not only for me but also for our students. After Rich had spoken to one of my feminist interpretation classes, for example, a young man in the class told me that Rich had given him a new way of imagining his masculinity...a way he said he had been groping towards, but couldn't quite get hold of until he heard Rich Weis speak.
Most of all, I am grateful beyond measure for Rich's wonderful friendship. I will always remember hours long dinners with Rich and Barbara or, after they moved to Kentucky, at the annual meetings of our professional society, dinners laced with wonderful conversation, and lots and lots of laughter. Cats will be evocative of Rich, as will certain kinds of music. And Italian food. And Chinese food. I will remember, too, his precise analyses of almost any topic that came up, and the wisdom he so freely shared. When someone uses words like: ad hominem ("arguing against a person rather than against an idea—it's what we are not supposed to do") I will know that it means because of Rich's explanation. When I remember to "let self-care be like rocks in a river; your work will flow around it," I will silently thank Rich Weis. I will remember his extraordinary pencil drawings and watercolor paintings, and the artistry that he brought to his gardens. I will remember his wry sense of humor, or how he threw back his head, and laughed with his whole being. There are no words to express how much I have valued Rich as a dean, a colleague and a friend, how greatly he will be missed, or how grateful I am for the ways he has enriched my life.