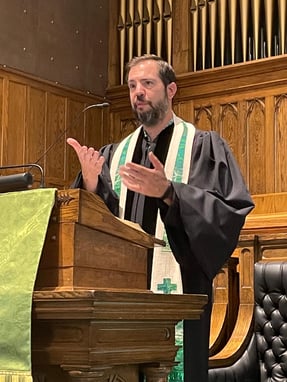 To hear him talk, Damen Jensen-Heitmann has had pastoral aspirations since he was confirmed in the Trinity United Church of Christ in rural Marengo, Iowa in seventh grade. He grew up in a small town nearby (Victor, population about 950), and remembers that his church family helped him to feel cared for and supported. Now, decades later, Damen is the one offering care—both as a pastor and the co-owner of Steeple Brewing Co. in Hastings, Nebraska.
Just how did Damen become a pastor and brew master in Nebraska? Slowly and serendipitously. The key was community.
A Long and Winding Road
After high school, Damen attended Wartburg College, a private Lutheran liberal arts college in Waverly, Iowa. He started out in television production, and then switched to elementary education with a science emphasis. After he realized he loved kids but did not want to have them under his charge every day, he switched his major a third time—to religion—so he could graduate on time. As Damen admits, it was "part homecoming and part happy accident."
So, was seminary next? Not yet. Damen decided to do a year of service after college, so he joined AmeriCorps and became a VISTA worker at the University of Minnesota Duluth. Fortunately, it was during this volunteer year that fortuitous forces began to turn the trajectory of Damen's life toward greater service and abundant community.
"I realized," Damen explains, "that I did not think I would ever know what I wanted to be when I grew up, but I knew what I wanted the world to be. I wanted the world to be all the things that the Christian faith espouses—a place of hospitality, a place of love and welcome, and a place of peace, kindness, and justice."
Choosing United
Since he had grown up in and been confirmed in a UCC church, Damen knew about United Theological Seminary of the Twin Cities. The UCC connection was important, and since he was already in Minnesota, United was the obvious choice.
At United, Damen found the community that would shape him as a pastor and lead to his career in brewing. A classmate, Lindsey Kluver (MA '09), and her husband Thomas—a couple from Nebraska—became close friends. Thomas, it turns out, was a dedicated home brewer. As he was going through seminary, Damen learned about brewing beer from Thomas, and discerned his call to ministry through United. He graduated with a Master of Divinity in 2009.
Moving to Nebraska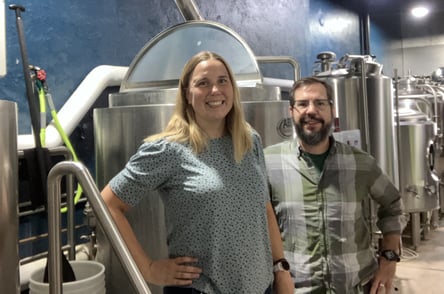 Lindsey (pictured at left with Damen) and Thomas moved back to Nebraska after she graduated, and Damen accepted his first call as a pastor at First United Church in Little Falls, Minnesota—a small town in central Minnesota where famed aviator Charles Lindbergh grew up. He served in Little Falls from 2010 to 2014, a time in Minnesota when the number of craft breweries was starting to surge.
At that point, Lindsey emailed Damen from Nebraska about a job opening. Hastings College, the school that both she and Thomas attended before coming to Minnesota, was looking for a chaplain to serve its students. Ready for his next call and eager to reconnect with his friends, Damen applied for and secured the chaplain position.
Next, Damen shares, "I got to Hastings…and thought this town needs a bicycle shop, better donuts, and better beer. So I started working on the one I could actually work on; I could start a brewery." To do that, he enlisted help from his friend Thomas, and Thomas' friend, Anthony May, a 2006 Hastings College graduate and co-owner of a local marketing firm.
By the end of 2017, Steeple Brewing Co. had become a reality and Damen had started part-time as an associate pastor at First Presbyterian Church where he worked with senior high youth, preached once a month, and promoted mission activities. He was also still working as Hastings College's chaplain.
Steeple Brewing Co.
An Omaha World-Herald story dated October 2, 2017, profiled the recently launched Steeple Brewing Co. Titled "Beer and Faith Go Hand in Hand at Steeple Brewing in Hastings, Where Head Brewer is a Minister," it opens as follows:
"When you think about it, the minister said, church and beer have a few things in common.
"Brewing does, after all, require certain virtues: patience (for the weeks required for the beer to ferment) and faith (that a host of unknowns won't spoil a batch).
"But most importantly, beer brings people together much the way that church does. It's a reason for people to meet, to talk, to support each other."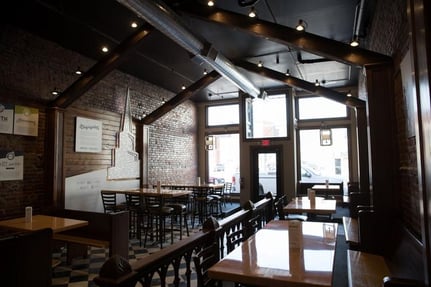 The brewery (pictured at right) is located in a former gun shop in downtown Hastings and has a deliberate, church-like feel. Under a wood-beamed ceiling (very reminiscent of a chapel), patrons sit in pews and a long wooden Communion rail divides the taproom.
The beers themselves are characters drawn from Damen's time growing up and pastoring in small town churches. or example, Lighten Up, Earl – A Mellow Pale Ale, has this back story: "There is a fine line between ornery and grouch, persistent and obstinate, stalwart and stubborn old stick in the mud. Earl crossed them all and didn't care. Perhaps this smooth pale ale would help Earl lighten up. It's just cookies after church. It's not the end of the world."
The popular Kitchen Kerfuffle – An Easy Drinkin' Cream Ale hearkens back to the calculated chaos of conscientious church committee members who superintend special occasions such as church potlucks and post-funeral receptions. The description for this ale suggests, "This easy to drink cream ale is something everyone can agree on. Just be sure to put everything back exactly where you found it!"

Other options include Bats in the Belfry – A Nutty Brown Ale; Divine Lite – A Tried & True American Lager; Wayne Fell Asleep (Again) – A Deep, Restful Porter; and Skip the Last Verse – A Hurry-up Hefeweizen.
A Church Life Balance
Since Steeple Brewing Co. opened its doors in 2017, a lot has changed. Damen married his long-time girlfriend, Hannah Jensen, in 2020, and the COVID-19 pandemic radically altered life in 2020, 2021, and into 2022. Fortunately, Damen is now a full-time associate pastor at First Presbyterian Church in Hastings, and Steeple Brewing Co. is still in business.
There are similarities to challenges the pandemic posed for both the church and the brewery. There was the issue of how to "get the product to the people," as Damen puts it. Happily, he adds, the "church and brewery were beneficiaries of strong community spirit and abundant energy around problem-solving." Creativity, applied intentionally, gave rise to new methods of serving congregants and patrons.
Of course, there were church services on Zoom, but the church organized outdoor worship services too and found other ways—including regular podcasts—to reach out. The brewery switched to carry-out sales of crowlers and growlers for its local customers. They also organized delivery nights in surrounding towns where patrons could come to a set location and pick up their beer orders.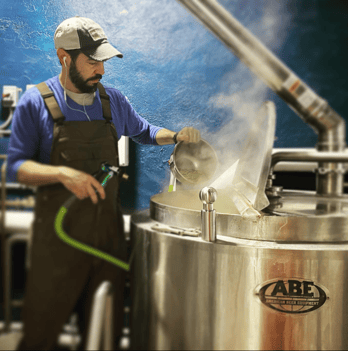 Steeple Brewing also gives Damen a chance to practice self-care. On a brewing day, he typically goes into the pub at 5:00 a.m. by himself and enjoys the quiet and productive solitude of brewing until noon or 1:00 p.m. It's a set time when he can engage in what he describes as a "more tactile and tangible form of creativity" than his usual work.
Ministry, by contrast, is more of an ongoing "faith life journey." And while each sermon and lesson for the youth of the church may be finely tuned to current life realities, they are all still part of an inclusive rubric of faith and pastoring. When brewing, as Damen puts it, "You make a beer and it's done."
How has United helped prepare him for the rewarding adventure of ministry—serving Presbyterian parishioners and brew pub patrons? "One of the biggest ways United prepared me for ministry," Damen states, "was by instilling in me a deeply held conviction to hold the perspectives of others and experiences of others in high regard." What has he learned since living and working in Hastings? "In both realms," he asserts, "it's nice to have partners I can rely on and trust."
He continues, "It has a lot to do with building community. To survive as humans, we must learn how to relate to one another, perceive one another, and help one another. That is a big part of pastoring a congregation. How do we facilitate a healthy, loving, peaceful community within the church? And then, how do we carry that outside the church walls? How do our members embrace others in the community and foster kind and loving relationships outside of church?"
The opening lines of the Steeple Brewing Philosophy statement suggest this idea of community most succinctly: "What is a beer? A beer is an invitation. It's a call to community. It is an opportunity to share just a few moments of life with one another…. A beer is a reminder that life is to be shared; that we are asked to care for one another."