The Rev. Dr. Ben Griffin was United's president for about 8 years in the late 80s and early 90s. He died earlier this month and we extend our prayers to his family and loved ones. Although many of us never knew him in person, his legacy of a commitment to social justice and interfaith engagement remain the hallmarks of United's focus some 23 years later. Organizations like United are built upon the wisdom, commitment and love of leaders like Rev. Dr. Griffin.
His public funeral on January 13th in York, Pennsylvania will be attended by Dr. Lewis P. Zeidner, United's current President.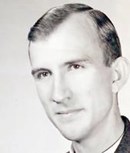 The Rev. Dr. Benjamin Griffin passed away December 3rd. He is survived by his wife Gail Van Ormer, their six children (and spouses), Lynne, (Ken), Michael, (Mary),Geoffrey, Jeremy, (Marie), Brian, (Alicia), Jennifer, (Chad), and their twelve grandchildren.
Born in Africa on September 27, 1940 to Baptist missionaries, Bennie, Jr., along with his brother Byron, was raised and schooled by their mother Alice in the Calvert School curriculum while their father presided over the affairs of the Baptist Boys' School in Abeokuta, Nigeria. Nigeria was an English colony, the world was at war, and Ben was a minority "white" boy in a foreign land. These were his earliest memories. In the 1950s, Ben returned to the Griffin family's native Texas to finish his education. Schools were segregated; "blacks" were now the minority. Ben was then raised by his grandmother Griffin. He said that next to his parents, no one helped or loved him more than did she. Such is the role of a grandparent. He considered it among his greatest honors to give her eulogy. In 1961, he graduated from Baylor University, in Waco, Texas, just as his father had done as well as other Griffins. Like his father before him, Ben was "called" to the ministry. He attended Andover Newton Theological School near Boston, Massachusetts. The 60s were a turbulent time, and faith-based leaders were active in racial justice. Seminary students were no exception; Ben joined his classmates marching in Selma, Alabama. Ordained a minister into the United Church of Christ, Ben began serving parishes in Pennsylvania: first in Mt. Pleasant, then in Orwigsburg, and finally in York. During those years, Ben was active in community service, led parishioners in worship, baptized babies, officiated at weddings, eulogized the faithful, and counseled many. Along the way, he earned his Doctor of Ministry and published writings, including his dissertation on the "Pastoral Care of Children in Crisis," a book, The Americanization of a Congregation, and others. After more than twenty years serving as a parish minister, Ben move to New Brighton, Minnesota, with his wife Gail and their youngest daughter Jennifer, to become the President and Professor of Liturgies at the United Theological Seminary of the Twin Cities. After eight years, Ben returned to his beloved Andover Newton Theological Seminary to become its President and Professor of Liturgies. There on "the hill," as the school was called by those who loved it, Ben's theological life came full circle.
Ben retired from Andover Newton in 2004 and moved with his wife Gail to a home on Annapolis, Maryland, to be nearer their grandchildren who live in the area. Most knew Ben for his years of theological, denominational, ecumenical, or community service. But, in retirement, freed from those responsibilities, Ben spent the remainder of his life dedicated to what had always given him the most joy and fulfillment: beloved husband, father and grandfather. Those who knew him best, his family, can appreciate the appropriateness of his final sermon: "Grace Abounding." Grace: the unmerited favor of God. Ben was steadfast in his love for his wife and his unconditional support for their children who were the recipient of so much grace. For him, faith and family first and forever.
A public funeral service will be held at Trinity UCC, York, PA on Saturday, January 13 at 2 p.m.