The community of United Seminary of the Twin Cities mourns the death of Daunte Wright, yet another Black man shot and killed in the long trajectory of deaths at the hands of law enforcement in this country. We join in the outpouring of anguish and grief over the loss of another precious life and we recognize that this killing comes amid the ongoing trauma experienced by people of color, particularly at this very painful time as the community is forced to revisit the horrors of George Floyd's death during the murder trial of Derek Chauvin.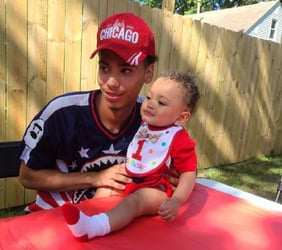 Daunte Wright with his son
Amid this unfolding situation we are reminded yet again of the urgent needs for care and solidary. As a seminary training pastors, chaplains, and social activists, we recommit ourselves to the tasks of learning and teaching effective ways to dismantle the underlying culture of white supremacy and violence in our society.
Interim President Marshall states, "A seminary should not be invisible on the social landscape, and United is committed to its public voice." As theologians and people of faith, we affirm this responsibility and declare with our whole hearts that Black Lives Matter.
Ways to Help Daunte's Family and the Broader Community