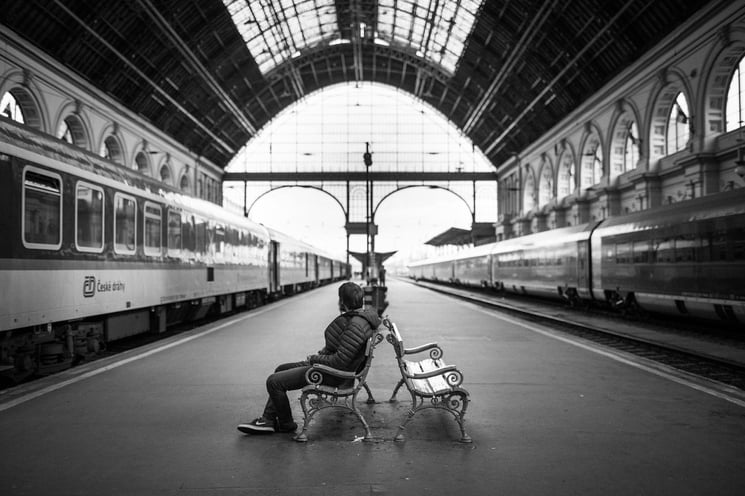 In the book Philosophy in the Flesh: The Embodied Mind and its Challenge to Western Thought, George Lakoff and Mark Johnson discuss how we use metaphors to structure our perceptions. One complex metaphor is "life as a journey", like a train trip with a timetable and destinations. You have expectations and assumptions. You imagine that to have a meaningful life you need goals and a plan and you need to stick to it. But life is more complicated than just a single track journey to a known destination.
The rails that crisscross the countryside and cut through cities have long captured people's imaginations. The idea of taking a ride on a luxury train, an express commuter line, or a cargo train can often evoke a sense of freedom, adventure, or romance. Trains are like people in that they must inevitably arrive at their destinations. They make scheduled and unscheduled stops along the way and move at their different speeds. Some trains can travel for hours and are mindful of only a single destination; other trains meander from busy stop to busy stop. The route and purpose of any train may change as the years go by. Our lives stretch out in front and behind us like train tracks, and we are the train, its passengers, and the engineer.
After 18 months at United, I have come to believe that seminary education requires that students need to travel on three train tracks simultaneously as they prepare and develop their skills as professional spiritual leaders.
The first train that students are on is the track that lead them to a graduate degree. That train weaves in an out of classes and new ideas are explored. Old ideas get deconstructed through vigorous debate, deep reflection and the accumulation of new constructs and knowledge. Finally, students craft a passenger car filled with intellectual tools that will guide, define and challenge their ministry in the future.
The second train students ride can be a bumpy ride. On this personal formation train, students will look out into the windows of your life and reflect on what you were and who you are becoming as a spiritual leader. This train has many reflective compartment cars where students can visit to dive deeply into their potential, obstacles and aspirations. Students don't arrive at a destination on this train and get off, instead the hum of this engine will continue as students absorb and wrestle with the Six Key Qualities that will define your ministry in the years to come.
A new group of railroad ties are building a new track at UTS. This is the innovation train. The challenges of spiritual leaders are great, and these challenges do not get addressed with laments about dwindling church attendance or troupes about millennials and the "spiritual" vs. "religious. These challenges need new ideas, creativity and aspirations that correspond with thoughtful initiatives. The image that comes to mind is a piece of sculpture of a subway train in NYC by the artist Red Grooms. In this life sized interactive train car, one can see anew the everyday life of passengers. Similarly, while in seminary students should be encouraged and resourced, to try out a ministry idea for a day, a week, a month that might contribute to the future of the ministry that you are hoping to pursue.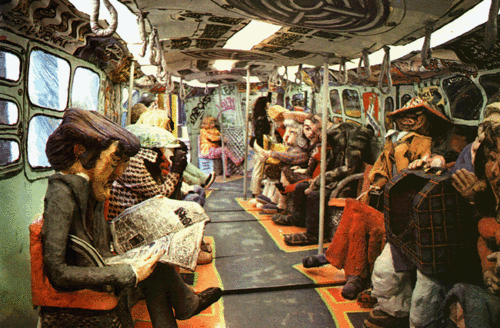 The way you choose to be in seminary and the goals you are working toward are the route and destinations you have chosen. Like a passenger riding a train, you have the choice to get on and off, find new routes, pick new places to visit, or just stop and enjoy the view for awhile.
The Department of Formation,Vocation and Innovation would like you to ride the three tracks that we are offering here at UTS. Participate in the programming that may give you new skills (Ministry as Improv Workshop). Experience the importance of self care (Treat Yo' Self). Attend chapel services to hear community and student ministers lift up spiritual conundrums in sermons. Join us in doing "pop up ministry (MidTown Global Market. Ramsey County Eviction Court, County Juvenile Workhouse) . If you are a distance students, talk with us about how to replicate these programs in your home town..
Next semester there will be more workshop offerings in dispute resolution, trauma informed ministry, care for sexual assault survivors, the art of storytelling, and care for the boomer elderly. In addition, I will be launching opportunities for students to receive small innovation grants so that ideas and "out of the box" thinking can be "made flesh".
Changing your route can sometimes give you a chance to "get on the right track." You may even discover something new you've been waiting for is just around the bend.
Remember: SARA SMALLEY AND KAREN HUTT are your Seminary Care Providers. If your last name ends in A - J, Karen is your provider. If it ends from K - Z, Sara is your provider. Do a well being check in with us before Thanksgiving (distance or residential) before Thanksgiving and receive a $25.00 Target Gift Card.