Do you feel called to faith or justice leadership, but want to stay rooted in your community? You need a seminary that fits your needs.
At United Theological Seminary of the Twin Cities, our state-of-the-art technology allows students from around the world to study online while:
Becoming an involved member of the United community and classroom

Gaining a world-class progressive education

Accessing support from peers, staff, and faculty

Training to become an impactful leader
Why United Has an Edge
Innovation is part of United's DNA.
Forged during the volatile social climate of the 1960s, United was never envisioned as a monolithic organization. From its inception, the seminary has demonstrated an intentionality of advancing public theology to stay current with the times, moving toward a more diverse faculty and student body—by faith traditions, gender, orientation and expression, ethnic background, life phase, and geographic location.
By extending United's reach into a national and global sphere, we are leaning into our values of interreligious and intercultural engagement. At the same time, we are uniquely poised to equip our students to lead and minister toward justice and peace in a multi-faith world.
We offer flexibility.
In the fall of 2022, the average age of a United student was 43. Many of our students have life circumstances that make compulsory in-person attendance difficult, as they are rooted in their communities—homes where they want to stay and make an impact.
Lisbeth Melendez Rivera—a Doctor of Ministry student, 35+ year veteran of social justice work, and recent candidate for city council in Hyattville, Maryland—has completed her Master of Arts in Leadership and started her DMin while living on the east coast. "I've conducted my entire learning experience on Zoom," she shares, "and it has been a fantastic experience."
Being able to learn from a distance was essential for Rivera. "I was able to work and get assistance from my union to complete my studies," she explains. If she were required to move, Rivera adds, "that would not have been possible."
Our leadership promotes

transformation through

distance learning.
Our technological investment was a calculated plan, and not a sudden pandemic-inspired shift. United, when it moved in 2019 to its Saint Paul home in the CASE building, deliberately advanced its technological capabilities in the new space.
The city-centered campus, with its modern and tech-friendly design, is near light rail and bus routes. As such, it is far more accessible for both commuters and distance learners.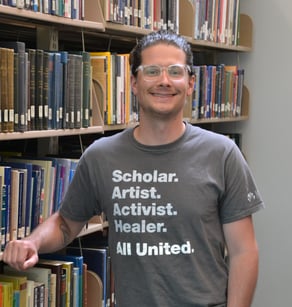 Pictured at left, Rev. Mason Mennenga—a United alum, employee, and podcast host of A People's Theology—admits that the seminary has a "Zoom culture." "It's a great thing," he adds.
"Our distance students feel like there is a distinct community built among them. This is especially rare for seminaries and there is a reason why we often have students transfer from other distance programs to ours, because we offer a leading distance program. In fact, we have been doing Zoom courses for almost five years, well before the pandemic, so we have been able to develop a community of students over Zoom far longer than other seminaries."
The Nuts and Bolts
Synchronous classes allow for discussions in real time. Each one of our classrooms have high quality microphones, high-definition cameras, and flatscreen TVs so that the online/in person interaction in the classrooms is as seamless as possible.
As one recent distance learning graduate asserts, "distance learning worked for me because I always felt like I was a part of the United community."
Asynchronous pedagogy—a modality that allows students to access content and move at their own pace—is the most flexible option for our faculty and students. It also allows students and faculty to be a little more creative.
For asynchronous classes, as Associate Professor of Theology and the Arts Dr. Jennifer Awes Freeman explains, she creates a personal introduction (sometimes on video) and invites her students to create and post their own introductions. These self-directed introductions allow students to discover commonalities as well as unique points of interest and start to form a community.
Awes Freeman adds, "In my course design and interactions with students, I strive to create an accessible, transparent, and collaborative learning environment. Regular and open communication, coupled with responsive pedagogy (such as incorporating additional resources in response to student questions), helps to foster learning online."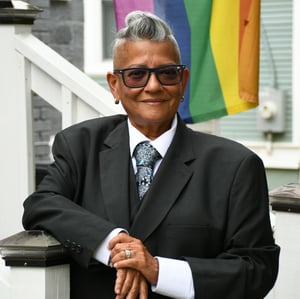 Rivera (pictured at right) notes that she has been able to meaningfully connect with United's faculty and fellow students online. She also "highly values" the opportunities she had to serve on the Student Leadership Council, take part in the Committee Advocating for Racial Justice (CARJ), and meet one-on-one with faculty.
After earning her MAL, Rivera even organized an online "pancake breakfast" with her fellow students. "I asked, as part of my project, for my classmates to help me organize a common space where each student brought their favorite pancakes, or something that met their dietary requirements, with extra servings to share." Students find ways to make community, both when they are online and on campus.
Synchronous classes allow for discussions in real time. Each one of our classrooms have high quality microphones, high-definition cameras, and flatscreen TVs so that the online/in person interaction in the classrooms is as seamless as possible.
United also has a selection of library resources available online, including eBooks and journal articles. Dr. Tim Sena, director of the Spencer Library, notes that he is "working on increasing the number of these resources all the time." The pandemic also created an impetus to make the online library even more accessible.
Translating Online Learning to Ministry
United is educating leaders to serve in many impactful ways—congregational ministry, chaplaincy, nonprofits, arts organizations, public policy roles, academia, social services, and more. Our unique curriculum, which incorporates social transformation, the arts, and interreligious dialogue, helps to better inform and ground advocates for justice, equity, inclusion, and love for all.
As one alum has stated, "United understands that students are not solely called to preach and teach within the walls of an institution, but to take our witness into the public square."
On a more practical level, all students—whether distant or on campus—have chances to take leadership roles in student affinity groups, the student leadership council, United chapel services, and other events that United hosts live and via livestream. With help from our chaplain, students also have access to personal counseling and CPE (Clinical Pastoral Education), an interfaith hands-on learning practicum.
What's more, all that technology is increasingly part and parcel of ministries, nonprofits, and many other businesses today. Notes one 2022 graduate, "Technology is a huge part of ministry, and United prepared me to hit the ground running in my new church home."
Those who founded United Theological Seminary were uniquely prescient in their vision for aligning the new seminary with the newly formed United Church of Christ. Steeped in the turmoil of the 1960s, the founders recognized the importance of an ecumenical seminary, foresaw "professional preparation of men and women (emphasis added)," and dedicated themselves to providing "the most adequate program of theological education possible."¹
Sixty years later, as our nation calls for racial justice and slowly recovers from the unprecedented pain of a world-wide multi-year pandemic, United's students, alums, and faculty have been creative, ethical, and compassionate leaders. Girded with our foundational values and modern technology, we have learned to lead worship in new ways, coordinate public forums, work to transform society, minister to hurt communities, and keep providing quality theological education in person and through distance learning.
______
1. Merrill, Arthur L. United Theological Seminary of the Twin Cities: An Ecumenical Venture (New York: The Edwin Mellen Press, 1993), 287–288.]