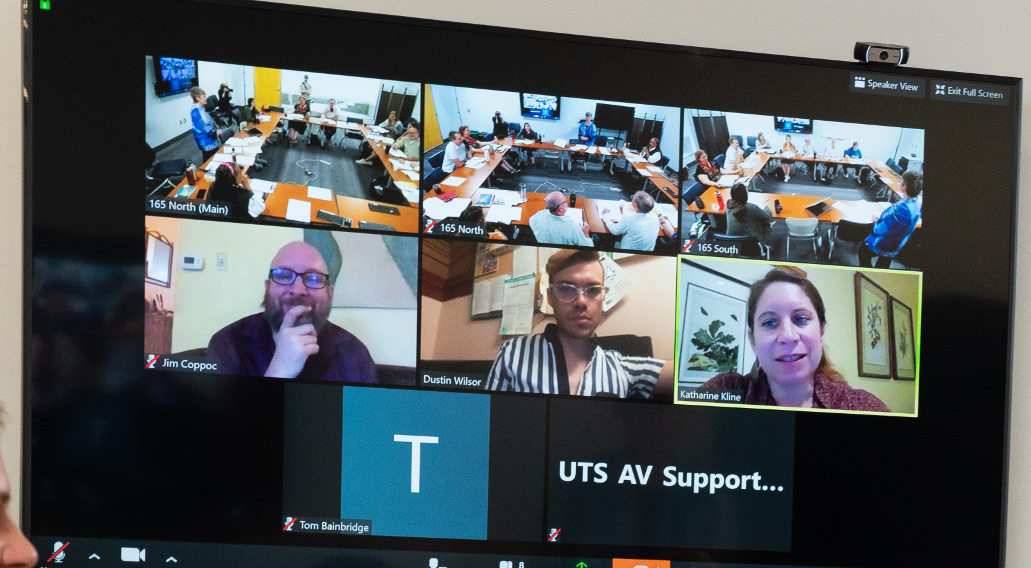 As classrooms and faith communities move to online events, courses, and gatherings, we know there's a big learning curve for presenters and participants. At United, Zoom technology is built in to our instructional model. Over the years, we've learned some best practices for online presentations that we want to share with you as you make the shift from in-person gatherings and teaching.
For the Instructor
Before the Session
Be sure that any materials that will be distributed to the class are already available in your Moodle course (or other learning management system) before class starts so remote participants can access them as they are needed. This can include videos and PowerPoints that you will present during class. Direct remote students to the Moodle course to access the materials.
During the Session
Ask participants to join the first Zoom class session fifteen minutes before the start of class. Use this time to check to make sure they are able to see and hear you adequately. Be sure to monitor your email or phone in case remote participants experiencing problems are trying to contact you. You may also want them to join a few minutes early each succeeding week, just to make sure everything is still working OK.
Students who participate in a Zoom-in class can feel disconnected from the class. Some of the usual cues that convey belonging that naturally occur among those in the classroom are not experienced by remote students. As the instructor, be proactive in regularly engaging participants.
At the beginning of each session, be sure to welcome by name each participant joining the class.
As you present in class, be sure to look directly at the camera..
People have different microphone capabilities on their computers. Check in periodically that folks can hear.
It is difficult to hear multiple voices coming from one microphone at once: make sure, if there are multiple people in a room/at one computer, that they are speaking one at a time.
Check in frequently if there are any questions, and pay attention to the chat option on Zoom.
As an instructor, use Zoom tools like "share screen" so distance students can see PowerPoints, videos, and images right on their own computer screens.
For small group work, employ the break-out room function.
For Remote Participants
A student in a classroom with several other students in it will usually naturally adopt respectful behaviors towards their classmates. Such behaviors just might not be considered when a student joins the class from the family room of their home. Many common behaviors remote participants might engage in at home that are not appropriate in the classroom will stand out to you and your students in the classroom, especially when seen and heard on a large display monitor. Be sure to clearly convey your behavior expectations for all participants, both in the classroom and remotely. Here are some examples of expected behaviors:
Set aside a single quiet room from which to join the class for the duration of each session.
Plan ahead to make sure there are no foreseeable potential distractions during the class session.
To avoid technical troubleshooting during class time, join the class several minutes before start time to make sure your audio and video are working.
Be punctual in joining the class and returning from breaks; stay until the end of class.
Make a habit of periodically asking questions or making comments during the class session; it allows you to overcome the tendency to become a passive observer while staring at a computer screen; it also reminds the instructor to pay attention to the needs of you and other remote learners.
Except for breaks, keep yourself in the field of view of the camera.
Remember to mute your microphone when not speaking; extraneous sounds that you may not be aware of are easily picked up by microphones.
Give your whole attention to class participation for each session; don't drive during the session and keep eating and other personal activities to break times.
Distance learning can be dynamic, engaging, and rich with social interaction, but it takes a mindful approach from the instructor and the students both. We hope you have found these practices to be helpful.