United students and alums don't take a class that explicitly prepares them for leading in days like today. Yet we have seen them step into this precarious and unprecedented time in compassionate, creative, and ethical ways. From online worship, daily email communications, prayer services, and more, they have demonstrated the depth and breadth of their gifts as leaders.
Within days of the outbreak we heard from students and alums, telling us how their education at United helped prepare them for what previously seemed unimaginable. Student Meredith Olson (MDiv, 2020) wrote,
Little did I know that by offering classes via Zoom, you would be preparing me with exactly what I needed to lead a congregation during this time. These years of seminary classes via Zoom, watching professors' skills and their struggles, have given me skills and insights about connecting virtually...I'm very glad I was ready with these skills. Thank you!
Katie Matson-Daley (MDiv, 2019), Interim Lead Pastor at First United Methodist Church of Red Wing posted on Facebook,
Two reasons I'm glad to be an alum of United Seminary of the Twin Cities this week. 1.) Consistently from my first class to my very last class I was told, 'the world is changing, ministry will need to change too, we have to 'do church' differently.' This week has been a fast paced whirl-wind of decisions and pivots but we're still doing church. 2.) Practice with Zoom. (I was an on-campus student, taking classes face-to-face, but having Zoom classmates in the room, virtually, made me so comfortable getting started with Zoom.)
The 9/11 commission, reviewing the series of events leading up to September 11th, cited a "failure of imagination." Other crises, including Apollo 1, the Titanic, and Pearl Harbor, also frequently cite a failure of imagination. In this and every time leaders are called upon to have vivid imaginations, bold visions, and creative ways of guiding communities.
At United the arts are key to the learning experience. While this appeals to those who are drawn to creative expression, it is not limited to painters, poets, or actors. The influence of the arts in theological education equips a generation of leaders to think creatively, outside of the box, and to be ready for change.
Jenn Luong (MDiv, 2019) wrote, "we were not only trained to pastor churches, but to think about, see, and engage the world differently." The presence of the arts at United helps students and alums build the creative muscles needed to respond to challenges that are normal and beyond belief. As this crisis continues to unfold we are humbled by their leadership.
Preaching for the first time in an online service, Mayflower's lead minister, Sarah Campell (MDiv, 1989), asked her congregation to reflect on, "What is God calling us to in these times?" For each of us the answer will be different. But at United we celebrate the many ways in which our students and alums are responding with faithful imagination. They are living out their call to be compassionate, creative, and ethical leaders. We are inspired by the gifts that they bring for such a time as this. We hope that you will be inspired by a sampling of their stories.
***
Elizabeth Macaulay (MDiv, 1999), lead pastor at Christ United Methodist Church in Rochester, MN and member of United's Board of Trustees, led an 8:00 pm Facebook Live evening prayer service, inviting her congregation to "pray your way into resting." Leaders from Christ United Methodist Church lead a fifteen minute service every night. These videos provide a nightly connection with the Holy and with each other. Elizabeth also writes a blog. A recent post is about pandemic pastoring.
Mayflower Community Congregational UCC in Minneapolis, MN started sending daily messages to members. Peggy (Margaret Carroll) Thompson (MDiv, 1988) collaborated with Sarah Campbell (MDiv, 1989) to include art in a daily "Mayflower Message" for members. Messages include multiple art forms including many paintings done by Peggy.
Melanie Greengo (MDiv, 2015) serves as pastor at Columbus Community United Methodist Churches in Iowa. She is doing a brief Facebook video each day as part of a Lenten devotional practice. In this link she reflects on the commandment to love one another.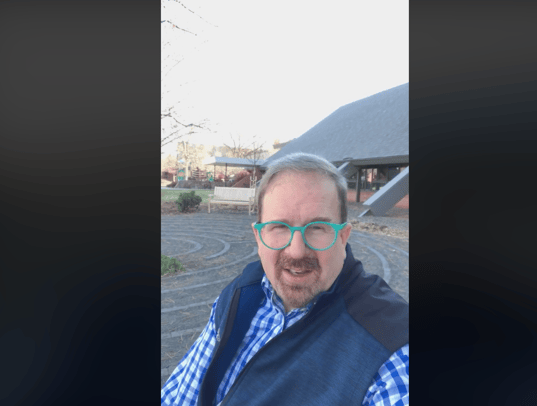 (David Bahr on Facebook Live)
David Bahr (MDiv, 1990) shares a video, reading a "Prayer for a Pandemic." David serves at Park Hill Congregational UCC in Denver, CO. He has invited members to create their own palms for Palm Sunday and to take a video of their own Palm Procession at home to send to the church so he can share it with others.
Craig Lemming (MDiv, 2017), Episcopal Priest at St. John's the Evangelist Episcopal Church in St. Paul, MN, wrote a blog entitled Trinitarian Survival: Create, Improvise, Trust. Reflecting on fear he draws on Isaiah 41:10 ("do not fear, for I am with you, do not be afraid, for I am your God; I will strengthen you, I will help you, I will uphold you with my victorious right hand…") writing, "In this COVID-19 crisis, we too find ourselves surrendering to realities beyond our control and improvising. Making decisions that change everything we have been so well-prepared for yesterday."
Jenny Lind Larsen (MDiv, 2018) serves at Christ UMC in Maplewood, MN. Recently she read The Clown of God, a story for all ages, as a tribute to Tomie dePaola who died last week.
Cyreta Oduniyi Howard (MDiv, 2019) creates video reflections including this one entitled Monday Mindfulness. Cyreta is a deacon at Liberty Community Church, PCUSA in Minneapolis, MN and serves as a Middle School Specialist, Academic Navigator, and Leader Teacher at 21st Century Academy.
Cori Berg (MA, 1998) writes, "You never know where seminary will lead you. I am now director of Hope Day School at Cathedral of Hope United Church of Christ in Dallas, TX. We are doing frontline care for essential workers as we are right near the medical district. This is holy work. This was the most important thing I did today. I hope it brings you joy." Enjoy.
Emily Youngdahl Wright (MDiv, 1988) wrote a song entitled, "A New Cup of Grace," when she was an intern chaplain. Drawing from the 23rd Psalm she was inspired by a patient saying, "Well, no matter how bad things get, I get a new cup of grace each morning." Emily serves as a chaplain for Fairview Homecare and Hospice in Minneapolis, MN working with pediatric and adult hospice patients and their families. Her song, "A New Cup of Grace," is providing comfort to new audiences.
Pamela Lynne Serdar (MDiv, 2001) is a retired UMC minister. Previously she served as the lead pastor at Richfield United Methodist Church in MN and as the Big Water District Superintendent at the MN Annual Conference of the UMC. She is sending out a gesture of love and hope from her home in Eagle Lake, MN.
Please share additional stories about how you are dealing with this crisis either on United's Alum FB page or by sending them to cbjohnson@unitedseminary.edu.