SAINT PAUL, MINNESOTA, UNITED STATES, October 24, 2023. United Theological Seminary of the Twin Cities is exceedingly proud to announce that 239 students are enrolled for the fall 2023 term, representing a historic 281 percent increase from 2017.
To put this good news into perspective, we must remember that United began in 1962 as a newly constructed residential seminary. In its first 10 years, United grew to 30 graduates, and by 1990, 45 graduates matriculated, including six Doctor of Ministry recipients. Recent figures tell the story of significant, sustained growth: In the fall of 2017, 85 students were enrolled. As the chart below shows, enrollment has since continued to rise year over year. This fall represents United's largest enrollment in 27 years.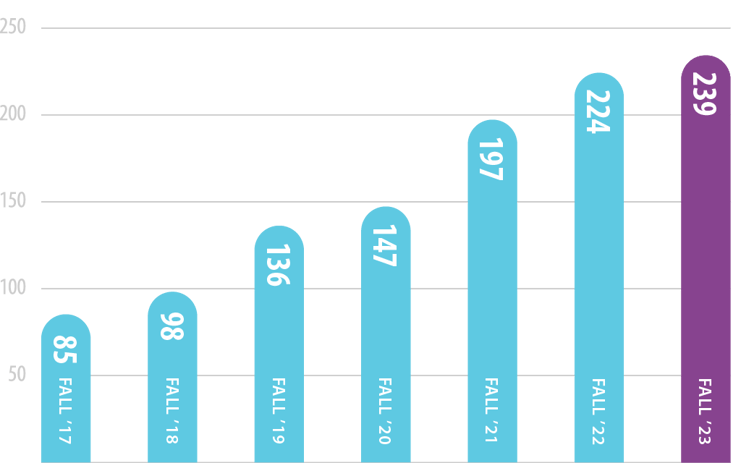 What inspired this signal improvement during the last six years? Admissions and enrollment staff have engaged prospective students through innovative outreach and marketing. Additionally, United's distance education is an enormous success story, allowing United to grow beyond the Twin Cities, Minnesota, and even the United States. Importantly, United's alums make great ambassadors for the seminary, as do its stellar faculty.
Speaking to the impact United's growth is having on the educational experience and classroom life, Dr. Kyle Roberts, Vice President for Academic Affairs and Dean, says, "Our growing enrollment has equated to full and vibrant classes, with a remarkable diversity of perspectives represented. This diversity and collective energy creates profound learning experiences that can't be replicated otherwise."
United is led by a visionary of extraordinary skill and drive. Reflecting on United's upward trajectory, President Molly T. Marshall shares: "At a time when many seminaries cannot attract students, United is experiencing a vibrant enrollment. I believe this is occurring because of our splendid faculty, enlivening curriculum, and our accessibility—both online and in person. Also, our admissions team is unparalleled in offering great support for those discerning whether seminary is for them."
United continues to evolve into the times in which it lives. Long concerned with issues of social justice, United has a history replete with examples of faculty, students, and alums fighting for ecological justice and an end to discrimination against people of color, women, individuals caught in the prison system, and those in the LGBTQIA+ community. Between four masters degree programs and a Doctor of Ministry program, students of myriad traditions, backgrounds, and identities are pursuing their vocations to become congregational ministers, chaplains, advocates, organizational leaders, and more.
United's future is filled with hope, creativity, and sustainability. The seminary looks ahead with eagerness to realize its mission, preparing innovative and compassionate leaders for the equipping of churches, other faith communities, and society toward justice and peace.
Media Contact: Nathanial Green
Director of Marketing & Communications
ngreen@unitedseminary.edu
***
About United Theological Seminary of the Twin Cities
Founded as a welcoming, ecumenical school that embraces all denominations and faith traditions, United Theological Seminary of the Twin Cities has been on the cutting edge of progressive theological thought leadership since it was established in 1962. Today, United continues to train leaders who dismantle systems of oppression, explore multi-faith spirituality, and push the boundaries of knowledge.