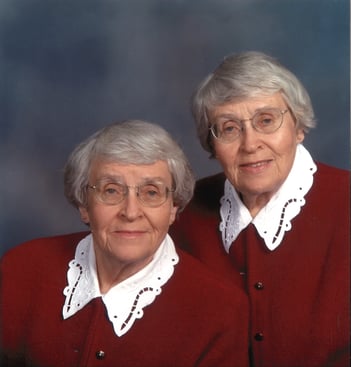 For twin sisters Marion and Hildegard, life centered around church. Their father, Rev. John Bunge, was pastor of Pleasant Prairie Evangelical Church when they were born. Later, he served in judicatory roles and, at the time of his death, was pastor of St. Paul's United Church of Christ (UCC) in Welcome, Minnesota. Hildegard and Marion grew up in and stayed at St. Paul's.



As their niece, Lisa, explains, "I think church was important to them because that is how they were brought up. Their father was a minister, their mother played the organ, so doing church things were important. It is just what they did."
When their brother, Jonathan ('63†), decided to follow in his father's footsteps, their mother enlisted the twins to help with tuition expenses. Like many students today, he was able to attend seminary because he had financial support. The sisters gave their first gifts to United in 1967.
Tragically, Jonathan died in 1969. In his honor, classmates established the Jonathan Bunge Memorial Scholarship and the sisters' donations then provided ongoing support to his endowed scholarship. They also planned a legacy gift; in death, as in life, they made a gift to support the Bunge Memorial Scholarship.
Identical twins, Marion and Hildegard dressed alike their whole lives. Their lives and work were also closely aligned. Graduates of St. Cloud's Teacher's College, they both taught phy ed and health in southern Minnesota.
The twins supported girls' athletics before it was popular. They involved girls in sports, and organized and coached girls' gymnastics and volleyball in the 1950s and 1960s. Nominated to the Coaches Hall of Fame, State Volleyball Coaches Hall of Fame, and the MN State High School League Hall of Fame, they were active with the National Physical Education Association and traveled to the 1960 Rome Olympics.
Though they retired in 1981, the sisters remained active. They were very involved in St. Paul's UCC, worked for Habitat for Humanity, and enjoyed traveling, walking, gardening, and visiting family.
Jonathan Bunge isn't the only alum in the family. In 2004, 41 years after Jonathan earned his degree, his grandson—Rev. Brian Wohlhuter—graduated. Brian chose United because he wanted to attend a UCC-affiliated seminary and serve as a UCC minister.
Brian says of United, "It was invaluable in my faith formation. It was at United where my childhood beliefs were challenged and I was forced to form my own thoughts and beliefs around my Christian faith…United gave me the freedom to ask questions and not be chastised for doing so. The ability to question, and yet take seriously, what the Bible says allowed me to form my beliefs and make my faith my own."
At the time of her death in 2023, Hildegard was 97. Marion died two years earlier, almost to the day, at 95. Services were held at their church home and Brian preached at both funerals.
As he described his great-aunts, Brian said, "For them, a way to live out their faith and express their Christianity was to be vital members of the church…the [physical one] and the wider United Church of Christ. They gave of themselves to support both."
Marion and Hildegard's faithful gifts to their brother's Bunge Scholarship will support the wider church for years to come as they support the next generation of leaders. Blessed be the memory of the inspirational Bunge sisters.
---
† Deceased