United celebrates 2019 distinguished alum Meg Riley. Meg has focused her ministry around world peace and justice for over 25 years. She has inspired and mentored many church leaders in this community and beyond. Her mantra is, "live out your faith and values in your own life and in ministry."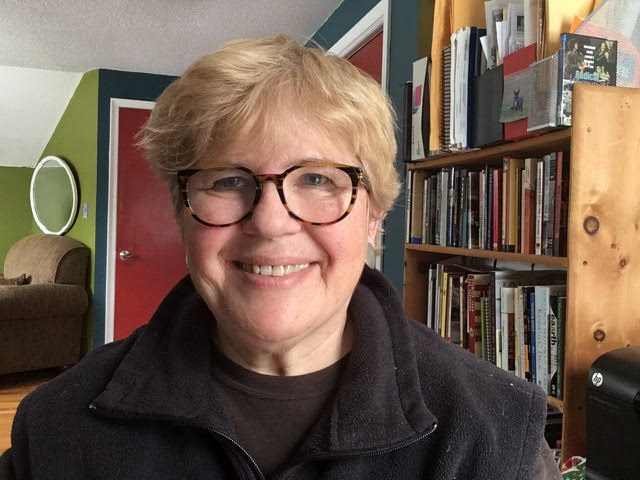 Many of those who were mentored by Meg first met her as an adjunct professor at United where she taught a course on social action for Unitarian Universalists. Terri Burnor, an alum who took Meg's class, writes that Meg asked students to engage a chosen justice issue from many angles--theological, historical, congregational, strategic and practical. Terri states that Meg taught them the "business of faith," and led her students and mentees into meaningful religious work with compassion, humor, grace, and encouragement. Terri goes on to say, "Meg can do this because she always sees possibilities in people...In the words of Desmond Tutu, she refuses to stay neutral in situations of injustice. In the words of the congregation she currently serves, Meg carries the flame of hope and helps us all do the same."
Meg graduated from United in 1987 with an MA degree. She was ordained as a Unitarian Universalist minister in 1992. Her work has touched the lives of individuals but also many institutions. At the Unitarian Universalist Association (UUA) she directed the Advocacy and Witness Programs at the Washington Office for Advocacy; the Office of Gay, Lesbian, Bisexual and Transgender Concerns; and the Youth Office. Meg directed the UUA response to Hurricane Katrina and was the founding president of Faith in Public Life: A Strategic Center for Justice and the Common Good that continues to be an important organizing force today.
One of Meg's major achievements was the launch of the national, "Standing on the Side of Love," campaign." This long time UUA slogan for LGBTQ equality was expanded under Meg's direction into a public advocacy campaign. The campaign generated high visibility in communities around the country and helped move the conversation that led to a vote that affirmed, "Love Wins," when it comes to marriage.
In 2010 Meg left the UUA staff to become senior minister of the Church of the Larger Fellowship (CLF) whose mission is to cultivate wonder, imagination and the courage to act. She and many others consider the CLF to be the most creative and unusual spiritual community around. The congregation exists fully online, without any walls and includes over 2700 members across geographic and social boundaries. Meg's responsibilities include spiritual leadership, working with others to envision a collective future, preaching, counseling, hosting a podcast, and "being a general gadfly."
Throughout her career, Meg has served many national boards of directors including the Interfaith Alliance, Americans United for Separation of Church and State, and the Religious Coalition for Reproductive Choice. She has contributed to numerous anthologies and has written blog posts for the Huffington Post, Medium, and Patheos. She is the editor of a collection of personal stories shared in the book, Testimony: The Transformative Power of Unitarian Universalism.
In 2017, Meg was selected by her colleagues to deliver the sermon for the 25-year class (those with 25 years of service as ministers) at the Unitarian Universalist Ministers Association (UUMA) annual meeting. She was also asked to deliver the prestigious and historic Berry Street Lecture at the 2018 UUMA conference. She has been awarded an honorary degree from the Starr King School for the Ministry in Berkeley, CA. Most recently she has been unanimously nominated to be the co-moderator of the UUA along with Charles Du Monde.
United alum, Karen Hering writes of Meg, "we turn to her as a leader not only for her insights but because she models being as open about her human limitations as she is to her many gifts. By her words and her example, she reminds us, colleagues and congregants alike, that nobody expects us to be perfect; only that we show up, bring our best selves forward and honestly admit when our efforts have gone wrong. In keeping with her recent study and practice of improv theater, she regularly demonstrates the philosophy of "Yes, and….." This is an improv practice that takes what is given (saying "yes" to it not as approval but as acceptance) and builds on it, creatively turning the story in sometimes surprising new directions that can be humorous and, more importantly, hopeful Meg's ministry--both in her call as the minister of CLF and in her ongoing service to and with colleagues and justice movements alike---is one that shows us the beautiful and theological possibilities of showing up in the spirit of "Yes, and…"
Bill Sinkford, former UUA president and senior minister of First Unitarian in Portland, OR writes, "Meg has modeled the ministerial calling to love not only the world as it is and the world as it ought to be, but also the world as it changes and can be changed. Like so many other colleagues, I am indebted to her for her mentoring, her courage and her friendship. Meg is, in fact, a distinguished alum. I hope you will decide to honor her for 25 years of transformational ministry and for her good and loving heart."
In the words of Terri Burnor, "United applauds and recognizes Meg's significant leadership and service in religious education, LGBTQ rights, faith-based advocacy across many justice issues, congregational ministry online and locally, and mentorship to countless ministers and seminarians. We celebrate Meg Riley.