This Monday April 16 through Wednesday April 18, the University of Minnesota is hosting a symposium "Prince from Minneapolis", and on that Wednesday from 1:45pm to 3:00pm, United Theological Seminary is hosting a panel on the Theology of Prince in the Cowles Auditorium in the Humphrey School of Public Affairs.
The Theology of Prince panel is the result of a conversation between Dr. Ayo Yetunde Assistant Professor of Pastoral and Spiritual Care and Counseling, UTS president Lew Zeidner, and former Head of Marketing Katie Langston. According to Dr. Yetunde, the three were discussing what is different at United and she posited "Because we do the theology of Prince!" Dr Yetunde explained "though that was the first time the idea came to me and that I spoke it, I could see Katie's eyes light up. I could see Lew taking an interest in what this idea could be."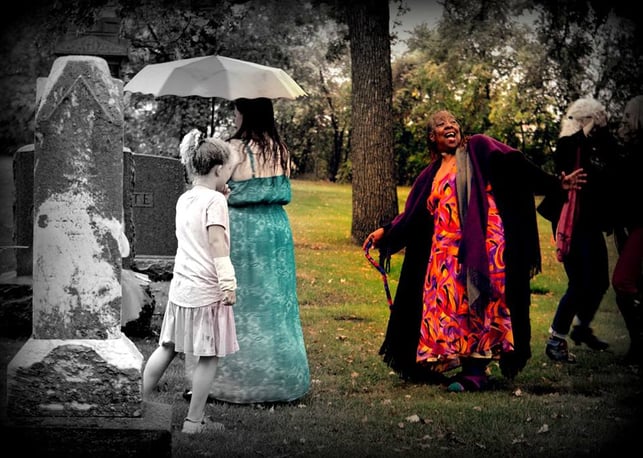 (Lisa Myers, All Excited, Winning Submission, United [Visual Arts])
The initial conversation led to a Theology of Prince committee and two Theology of Prince contests, calling for submissions of poetry, visual art, video, personal essays, and academic papers that explored "the influence of religion, theology, and/or spirituality within Prince's work." The first call for Theology of Prince was presented to United students, alumni, and faculty/staff. Winners included alum Amoke Kubat (personal essay), and currents students Lisa Myers (visual arts), and Max Brumberg-Kraus (poetry). On November 2, 2017, the United community held a Prince Dance Party and Theology of Prince open mic, where the winning submissions were announced.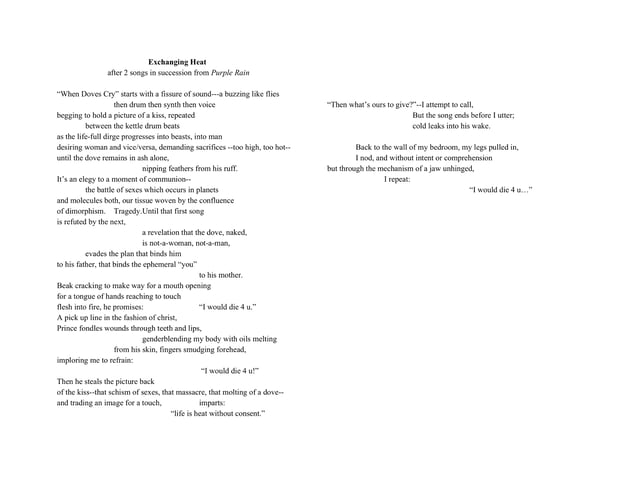 (Max Brumberg-Kraus, "Exchanging Heat", Winning Submission, United [Poetry])
In collaboration with the University of Minnesota, United opened up a second call for submissions, this time for the general public. This contest also included calls for academic papers.
During the Wednesday April 18 Panel, winners from both the United community and general public will present their work. The full line up includes:
Cindi Beth Johnson, Director of The Intersection: Wilson Yates Center for Theology and the Arts and Professor in the Practice of Theology and the Arts
Max Brumberg-Kraus, student, who will read his prize-winning poem "Ours to Give"
Amoke Kubat, graduate, who will read from her prize-winning essay "The Ascension of Prince"
Lisa Myers, student, who will show her prize-winning photograph
Pamela Ayo Yetunde, Director of the Interreligious Chaplaincy Program, who will read from her academic article, "Prince: A Spiritual Bioarchetypography of Nondualism and Dialectical Psycho-Spiritual Healing, Part I"
Danny Solis, prize winning video, will perform his poem "The Moment of His Arrival"
Zada Johnson, prize winning essayist, who will read from her essay "Prince, the Beautiful Oshun: The Purple One as Embodiment of the River Goddess of Love"
Vernell Garrett (not present), prize-winning artist whose art will be displayed and description read
Lianne Raymond (not present), prize-winning academic article "Prince's Spiritual Terroir" will be read, in part by Cindi Beth Johnson
Thomas Wilson (not present), prize-winning poet, whose poem "The Ladder" will be read by Max Brumberg-Kraus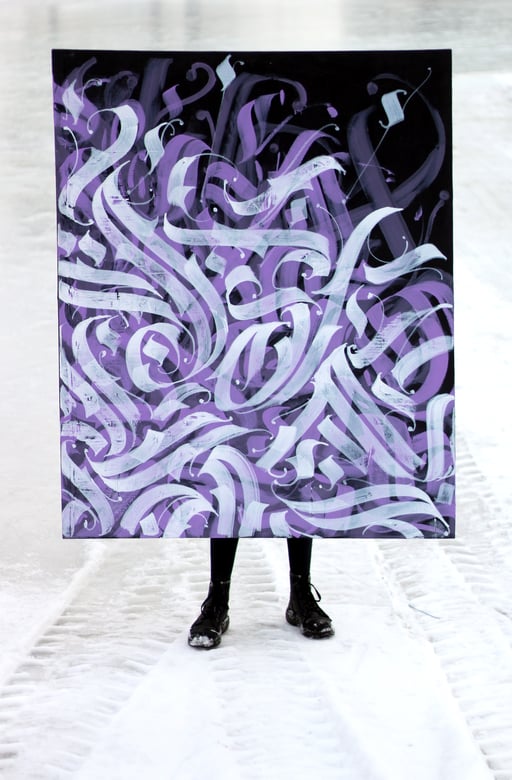 (Alec Lossiah, [Untitled])
While winning submissions will be presented at Prince from Minneapolis, United will be releasing an online gallery of all the visual art and poetry submissions and an academic ejournal with the essays.