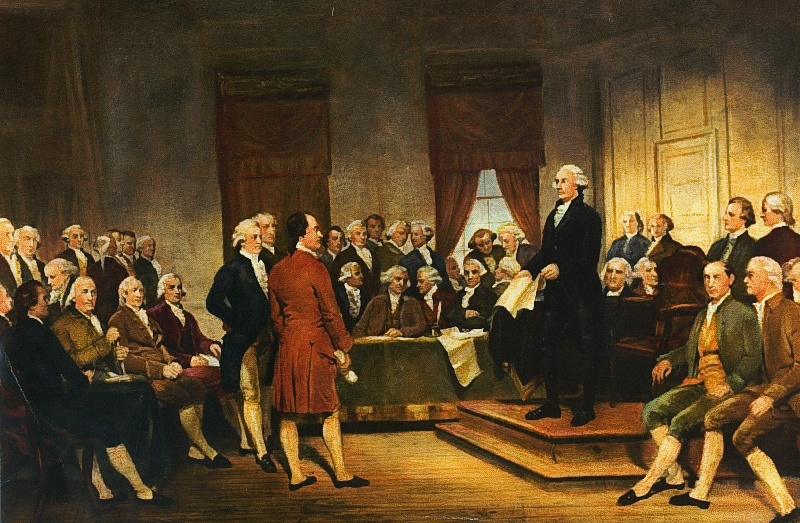 "Congress shall make no law respecting an establishment of religion, or prohibiting the free exercise thereof; or abridging the freedom of speech, or of the press; or the right of the people peaceably to assemble, and to petition the Government for a redress of grievances."
This is the text of the first amendment to the United States Constitution, adopted by the original 13 states in 1791—two years after it was originally proposed. The amendment rendered the Constitution palatable to the "anti-Federalists," those who feared that a powerful, nascent federal government could infringe upon human liberties.
The first amendment names three categories of rights: freedom of religion; freedom of speech and of the press; and freedom of assembly to petition the government "for a redress of grievances."
The occasion of this Constitution Day prompts reflection on the importance and applicability of these rights—each as important and applicable today as they were hundreds of years ago. We can easily recall current or recent examples of ominous threats to freedom by authoritarian-minded leaders. But we can also reflect on the difficulty of fairly applying our freedoms in a pluralist society. If my freedom competes with your freedom, who wins? Who gets to decide? On what basis?
It's too often those in the powerful majority who come out on top of these negotiations. It's important to remember that the first amendment was added precisely to protect the freedom of vulnerable religious minorities from the encroaching influence of the powerful. We should also, then, be thankful when the government protects the freedoms of society's marginalized persons, and when it intercedes for their right to dignity and freedom of expression.
In our context of seminary education at United, where diversity of religious belief and practice is not just tolerated, but welcomed and embraced, we have special reason to celebrate freedom of religion, freedom of speech, and freedom to assemble.
Freedom of Religion
At United, we enjoy regular conversations about the nature of God or of the divine; we propose in our courses a variety of interpretations of our founding religious texts; we engage in spirited debates about the application of theological and religious themes to ethical and political life. And, we prepare ourselves and each other for real-world, public practices of faith and religious leadership—whether in churches or other houses of faith, in social ministry organizations, in hospitals as chaplains, or in any number of other institutions of contemporary social life.
Basic human liberties pertaining to religious belief and practice (what my Baptist freedom-seeking forebears called "soul liberty") enable a peaceful and peaceable pursuit of truth in public settings and of the formation of courageous leaders, who may at times—or perhaps very often—prophetically criticize the actions of the state.
Freedom of Speech and of the Press
United is known for speaking for causes of justice, whether in academic writings or to a broader public. This summer, United's faculty drafted a statement in response to the Trump administration's zero tolerance immigration policy. We also invite our students to think critically and challenge the arguments of politicians, theologians, scholars, and professors. This summer, Rev. Dr. Allen Hilton, was a guest lecturer in our Religion and Politics in America class taught by Dr. Silas Morgan. Students were invited to offer their reflection on Hilton's philosophies. Lisbeth Rivera, a current United student, shared in a blog post, "Policies are Band-Aids without the Neosporin of education. Too many of our organizations are invested in passing laws as solutions or enhanced policy, and they forget the hard work of educating a public about the beauty of difference, the ugliness of fear."
We do not need to valorize government or its mechanisms of power to appreciate these basic freedoms of speech. Nor need we accept its actions or policies to enjoy its benefits—indeed, one of those benefits is the very capacity to speak against it. Nor need we fall into the trap of American exceptionalism to honor the wisdom and foresight of its founders—and to practice those freedoms in ways that align with our deepest desires for a just and humane society for all.
Freedom of Assembly
An estimated 4.15 million people participated in the Women's March on January 21, 2017, and an estimated 800,000 protestors called for gun-control on March 24, 2018, at March for Our Lives. Americans across the country are activating their right to petition the government for a redress of grievances. At United, some of our students, faculty, and staff practice their faith through assembly. Claire Klein, a recent United graduate, shared her experience as an organizer for the Poor People's Campaign, "As cars ripped through lines of those willing to be arrested in front of the Whipple Building, blocking access to ICE trials, I sang and chanted with my professors from United Seminary and other members of my church."
A pluralist society that privileges freedom of religion, freedom of speech, and freedom of assembly to petition the government invites complex negotiations and intensive arguments. On this Constitution Day, let's be thankful that these arguments and negotiations can take place in structured ways and in public forums. And let's be vigilant that it remains that way, despite ever present threats to the contrary by some of our own political leaders.